Glen Eagles, West Vancouver

A close up of the vert extension's tiny little deck.

Description:
The Glen Eagles park now has a concrete bowl!

Just opened is the Glen Eagles bowl. A typical Vancouver style crazy combo bowl with hips and corners and spines all over the place. There is a big sub box at one end and the bowl connects via a spine to a smaller, square 5' bowl which is really fun. All in all the bowl is pretty awesome, the builders did a great job. The surface is really smooth and there is anti-peg metal behind the coping which protects the concrete.

The sad part is that after a year the dirt jumps aren't any better. In fact they are way worse. Check the before and after photos. All of the flat bottom has been filled with this fine gravel which gets dust everywhere and the little stones of course end up in the bowl. The dirt quarter at the end has been turned into a dirt wall. The jumps are smaller now and they are really really rough and dry.

The dirt section started out really good but now it's not worth it to even try to ride it without shocks. Fortunately the bowl more than makes up for it. Super fun park.

Address/Directions:
I know where it is but it's hard to explain. It's right off of Marine Drive all the way out in Horseshoe Bay. You could drive all the way out there on Marine Drive but the best way to get there is to take the #1 Highway all the way to Horseshoe Bay and then backtrack to Marine Drive. Follow the bus route back and you'll see the park on your right.

Google Map: Click Here

Comments? Click Here


The squarish 5' bowl spines into the big bowl complex.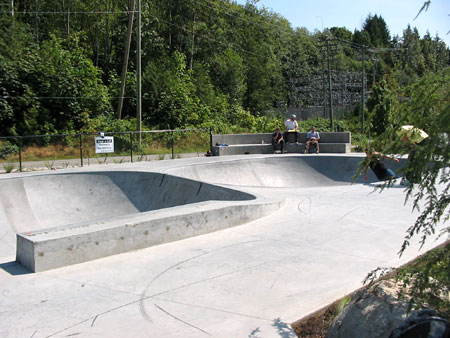 Another view of the 5' bowl and spine.

Further back you can see the vert wall, second spine and hip.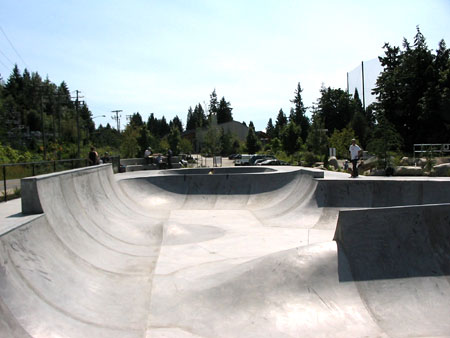 Another angle of the vert wall, hip and spines.
Here's the view in the other direction. You can just see the big bowl corner to the right which makes two hips.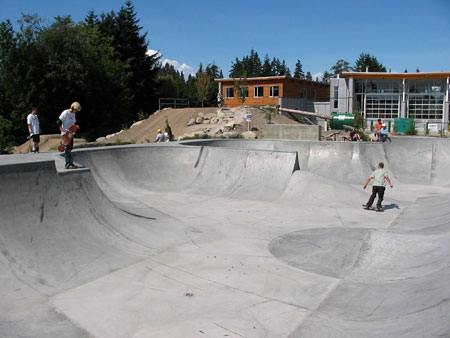 Another view. Behind the spine above the opposite wall is the sub box.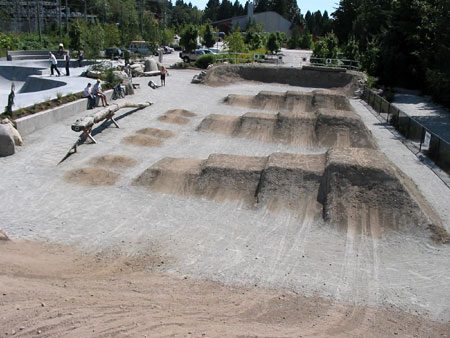 Here is the dirt section. Dry and crusty.
Here is the old dirt section. This photo is about a year old. You can see that the jumps were larger and of course they had a larger area. If you look at the new photo I think they actually tore all of these jumps down and moved the dirt over to the right to make room for the bowl.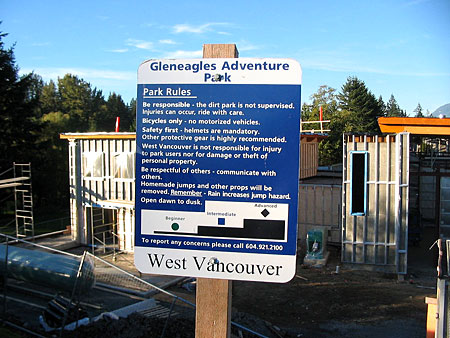 The rules. NO BIKES... ha ha just kidding.