Hastings, Vancouver


Panorama of the Hastings bowl. Scroll to the right.

Description:
Hastings has a deep, complicated bowl with coping. It starts at around 4.5' deep, drops to 6' deep, then 9' and ends up at around 12' deep. Looking at the deep end from the deck some parts look almost over-vert. There is a toungue sticking out in the shallow section and a spine leading into the 9' section. The 'street' section wraps around the right and top sides of the park. The outside section features really good hips, a quarter and a wallride. Check Gary Young's Ody video part. The part that looks like it's in a hole in the ground is filmed at Hastings.

There is still a little bit of tension with the skaters at this park but an understanding has evolved. BMXers mostly ride the bowl in the mornings when it's not busy. Don't cut people off, respect the park and you will have a fun time. Respect means no peg grinds or stalls in this park. The bowl is best for high speed flow and airs anyway. Hit the hips, try not to hit your pegs on stuff and everyone will get along fine.

Directions:
On Renfrew St. in the PNE grounds about a block north from Hastings. Take any bus that travels along Hastings street or take the Millenium Line Skytrain, get off at Renfrew Station and ride North for about 26 blocks.

Google Maps: Click Here

Comments? Click Here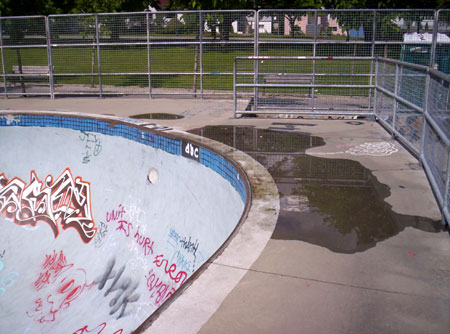 Puddles form around some parts of the bowl but none of them really get in the way.
Yeah they really don't want bikes in here. Just toss your bike over the fence.
The entrance into the bowl and the 'street' section.
A nice big bank drops you down towards a big tranny to wedge hip.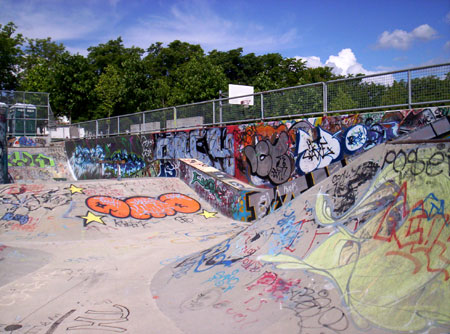 A close up of the hip. In the background you can see the box and quarter.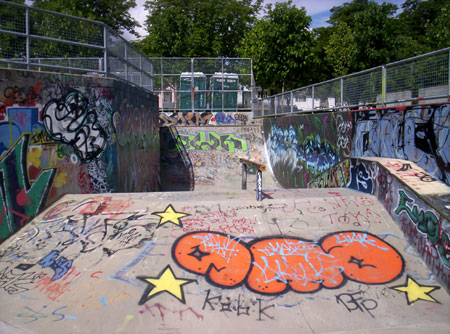 Flow over the wedge box, hit the quarter at the end and it sends you back...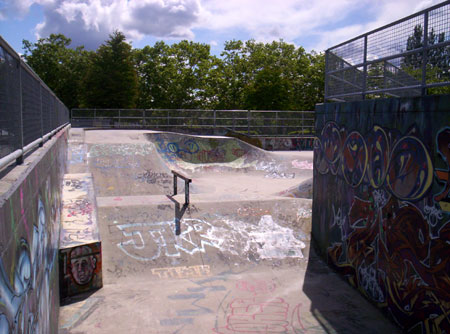 Back over the box and towards the other hip.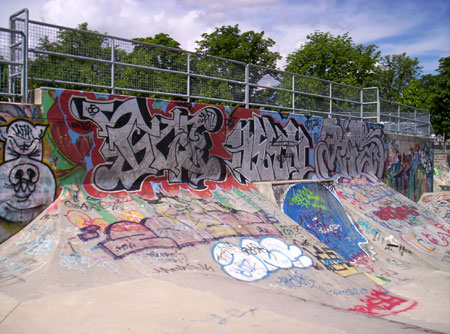 Against the wall is this quarter to wedge wallride that you can hit either way. The top of the wall is also stallable if you're good.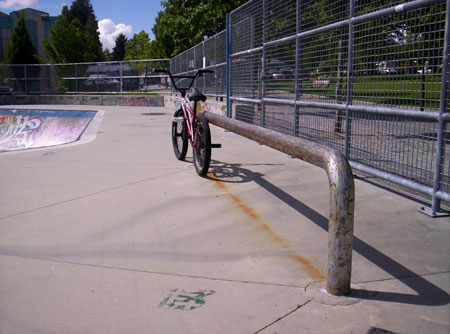 As a bonus they added this short flatbar on the deck of the bowl. It's just over tire height.