China Creek, Vancouver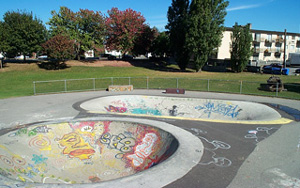 Here's a photo of what the creek looked like before it got a face lift last year, scroll down for more photos.

Description:
Maybe it's not the best park in Vancouver but it's definitely in the best neighbourhood. Smack in the middle of East Van this park hosts yearly Jaks skate comps and is a good place to drop in anytime to ride with the local riders and local skaters. Bring some beer. This park is a big round area with two bowls, two flat rails and a bench. The bowls were both recently re-surfaced and new asphalt was put in. The park now rides a lot faster but no new ledges or anything except for the stuff that the locals are building themselves.

The first bowl is called 'The Tub' or 'The Bathtub' and is about 5' deep, it's fun for tire taps, nosepicks, skids, or whatever. The skaters here mostly use one end of it as a flyout for ollies and flip tricks. On a bike it just throws you for distance and it isn't much good as a fly out jump. It is a good landing for the infamous General Lee gap, a bowl to bowl transfer from the Tea Cup to the Tub. The second bowl is called 'The Tea Cup' and is a 6' bowl with around 8' transitions and no flat bottom. There is a roll-in where the handle would be and most people use this as an entrance to do fly-out airs out the other end. There is no coping on this bowl so no peg tricks please... it's pretty mellow anyway, you can roll in nearly anywhere on it without hanging sprocket too much. It depends how big your sprocket is.

The rest of the park is street obstacles and various things that the local skaters have built. There's a just over peg height, big, round, flat bar called 'The Cannon' that has been cemented in. There's a plastic bench that's too short and flimsy for bikes and a long thin square rail cemented in that's a little under tire height. There almost always some other bits and pieces that the local skaters build to add some more action to the park. Sometimes the stuff stays for a long time, sometimes it doesn't.

China Creek is all about the beer drinkin', weed smokin', East Vancouver scene. Everybody is cool with each other, riders have respect for the bowls and the skaters have respect for the riders. If you show up and the place looks packed don't worry, most of those people are just drinkin' and hanging out. Even with 30 people in the park and 20 little kids playing in the tea cup I still always get a good session in.

Address/Directions:
From Downtown take the Skytrain, Eastbound, to Broadway Station. Then head West along Broadway for 4 or 5 blocks. When you hit Clark Drive you will see traffic lights and a Petro Canada gas station. Cross Clark, then walk South for 1/2 block along Clark (away from the gas station), go past the alley and then turn right into the little dead end street and you'll see it.

You can also take the 99 B-Line bus along Broadway, or the 22 Knight St. bus from Burrard or Pender St. Downtown, get off at Clark and Broadway.

Comments? Click Here


Here i am standing in the bottom of the tub, i'm jay miron height... 5'6", the tub's about 5' deep.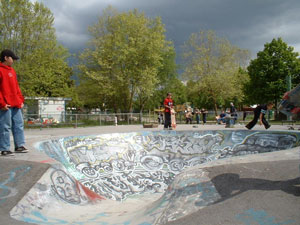 Here's the tea cup, with a bunch of little kids swarming around.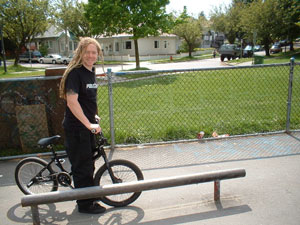 The cannon, just over peg height, it's really fat and good for learning new stuff on.
Here's a crooked grind/ bottom bracket slider on the flat bar. tThis rail is thin and just under tire height.

Here's the wedge box thing. UPDATE: This thing is gone. It lasted a long time but it finally started to fall apart and somebody took off with it.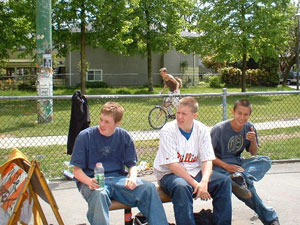 Here's a pic of Gibbs, Zack and Ray sitting on the plastic bench.
The latest item at China Creek is this sketchy kinked quarter with coping.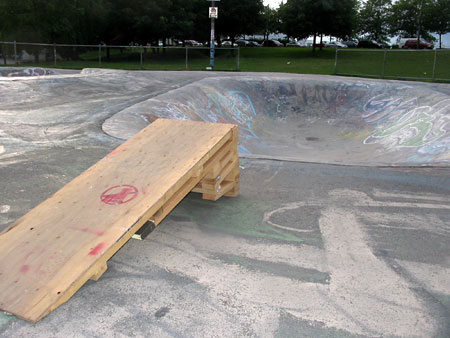 This shady wedge launch into the tub is pretty fun.